Rancid Soup Zine Issue 2 – June 1991
Welcome fine & not-so-fine diners, to the menu of Rancid Soup's 2nd issue + some samples off its pages.
This issue included tons of reviews, demonology tales, 7 worldspread scene reports, class drawings, a Stephen King works' debate, a "Flowers & Shovels" doom metal section, an emotional MY DYING BRIDE article, and 34 interviews, all served with a free plastic spoon to stir the whole bile-mess with.
Apologies if the scans are not the best, but the masters are in Malta, and I scanned this from my one and only stapled copy after migrating. So if the text size is too small, please check slideshow. Alternatively, if viewing on a mobile with a small screen, you might prefer to view here.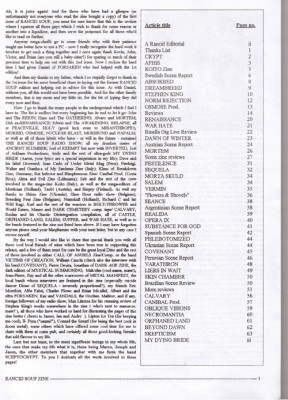 In my opinion, this was a great leap forward from #1, and in fact some wrote about it as follows.
"a good vibe and feel whilst reading through this zine, the interviews were generally deep and informative and the occasional blast of humour came through as well" – TERRORIZER MAG (UK)
"different from the average ones… this magazine has the attention to become artful" – MORTICIANUMSKULL MAG (Holland)
"supportive and dedicated publication that contains all you'd expect from a true underground rag" – UNDERGROUND SCENE REPORT (Holland)
"these 70 pages of small text contain hours of reading, I was surprised to see how long it took me to read the entire zine. But it never gets boring due to Malcolm's entertaining scribblings and varied and well- performed English. …Malcolm throws in some really unexpected questions and his interviews generally hold a good standard." – SCRIPT INFERNAL MAG (Sweden)
"criticism in reviews is great, your honest personality reflects there. RANCID SOUP belongs to the best zines I've read, interviews due to quality of questions and reviews due to professionalism and honesty" – BIOPSY ZINE (Finland)
"a real underground magazine of high professional levels" – FIGHT AMNESIA! (Germany)
"the best mag from Malta and one of the best in the international scene." – NO COMPASSION MAG (Malta)
Or click here for more reviews about the zine and a list of distributors where you can get a hard copy.
Beyond Dawn (NO)

Costa Rica Scene Report

Fred the Roo Reviews

Dreambreed (Eng)

"Flowers & Shovels" Doom Metal Special, pg 1

"Flowers & Shovels" Doom Metal Special, pg 2

Koito Zine (IT)

Suffer (SWE)

Reviews

Norm Rejection (MT)

Osmose Prod (FR)

Zine Reviews

Oblique Visions (MT)

Orphaned Land (IS)

Peru Scene Report, pg 1

Peru Scene Report, pg 2

Renaissance (BE)

Warhate (BR)

Sequela (MT), pg 1

Sequela (MT), pg 2

Necromantia (GR)

Varathron (GR)

Skepticism (FIN), pg 2

Skepticism (FIN), pg 1

Stephen King article, pg 1

Stephen King Article, pg 2

My Dying Bride (inlay cover article)