Got a question to ask before starting lessons?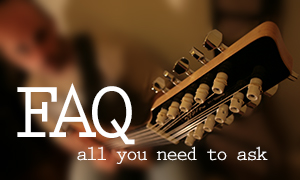 At what age can I start learning guitar?
With small size guitars on the market, starting at an early age is possible, ideally at 8 years old, as a bit of primary school arithmetic and language facilitate learning.
On the other hand, it is never too late if you are an adult keen to start. Besides the fun of learning some tunes to share when you meet friends, the guitar helps you chill down after a hard day at work. As guitar legend Steve Vai said when asked why he still practices a lot despite having a wife and children – "The guitar always speaks nice words to me!".
The Chinese idiom has it that "the journey of a 1000 miles starts with a single step"! So start today!
What if my son/daughter is younger than 8?
Kids 4-7 function better in a group scenario with others of their same age – more fun & more rewarding to match up to other kids. At my Mod 3 : Parent & Child Guitar or Mod 4 : Parent & Child Uke courses, the kid is accompanied by a parent/guardian, to ensure that revision at home is in the same fun method used in class. The ukulele is especially easy and more recommended for kids aged 4-7.
How does a guitar vary from a bass, and from a ukulele?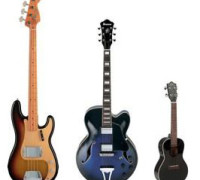 The main obvious difference is the size, with bass guitars being bigger than guitars that are bigger than ukes (as per pic to right).
The bass is an accompanying instrument, while guitar and ukulele can both be played on their own.
In their standard form of 6 strings and 4 strings, tuning is E A D G B E (guitar), E A D G (bass), D G B E (baritone uke), so it is mentally easy to switch among them.
As the smallest, the uke is the easiest to play. Tuned as G C E A except the baritone (tuned as above), the use of a capo at the 5th fret makes it easy to play with guitars.
Which of the 3 guitars – folk acoustic, classical or electric – is ideal to start on?
Although older students (& sometimes teens) tend to already have a clear idea whether to go acoustic (steel or nylon strings) or electric, this decision is taken at the 1st lesson due to the different techniques different guitars demand.
For younger kids starting out as complete beginners, please read this page which clearly explains the differences. 5 basics rules –
a) the thinner the guitar, the easier to play; b) an entry level beginners guitar costs ~ £70 whereas a ukulele costs ~£25; c) an electric guitar is the easiest to play, but you would need a +/- £30 amp to go with it; d) for acoustic guitars, colour varnish ruins the sound; e) nylon string acoustic guitars have too wide a neck for beginners. Buy only if a teen/adult wanting to specifically learn classical/latin/flamenco.
Which of the 4 types of ukuleles is ideal to start on?
Please read the ukulele page before buying.
Do I need to buy a guitar/ukulele before starting lessons?
For individual lessons, I strongly suggest we talk about this at your 1st lesson, especially if buying a 2nd hand guitar.
Meanwhile, no lesson time will go lost as I'll show you how to apply some music basics to the guitar using 1 of my guitars. Generally speaking, most of my students figure out all the notes on every fret of every guitar string in less than 15minutes. Not only is it easy, but from day 1, you are immersed in the fundamental basis to become a musician i.e. to create away from one's instrument. The guitar is only a tool of choice, the music is inside you! How? Come and discover how easy it is!
For group lessons, the participant is to bring their own ukulele or guitar (3/4 size for kids less than 140cm tall). As a guide for good entry level instruments, guitars cost ~ £70, whereas ukuleles cost ~ £25. You might find cheaper, but the quality may affect your playing, and is highly not suggested.
Do I have to visit the tutor for a lesson, or does the tutor come to me?
The choice is yours! I can visit you in the comfort of your own home OR you can pay less by visiting my studio equipped with many guitars, a synth, a bass, a ukulele, and industry-standard software, media and hardware to make your learning experience more comfortable!!!
Furthermore, you can take lessons online or join a group course.
Click for prices to all above.
What is if I am not based in London?
Individual lessons are available internationally online. All you need is a broadband connection, a cam and a mic. On my side, I am equipped with a 720p webcam, a broadband connection + a mixer to transmit multi-chnl audio as 1 soundwave to you! I also can teach in Italian, Maltese & German if English is not your language of choice.
Should I read music, or will I be able to play my favourite tunes with less effort?
As a beginner, there is no need to learn musical notation. It will be however later introduced in small measures as to improve your sense of rhythm, and to help you understand and learn from varied music styles. For more advanced players, learning from non-guitarists is a good kick which calls for sight reading. In both instances, the bottom line is to have fun and read effortlessly. Just as one reads English as he/she speaks English, one reads music as he/she plays music – learning by doing!
I used to learn guitar when younger but quit as I found it hard. How can I stay motivated if I try again?
Our learning skills sharpen as we mature into adults. So if you tried learning guitar when younger but it was not a successful experience for whatever reason (e.g. it was just a school subject and your interest in music then was less, or you were pushed by your parents, etc), the probability you stopped was that you were not going places, as challenges faced were not overcome, and hence your motivation went downhill.
But learning is understanding. As a teenager/young adult understands more the aims behind exercises, this makes for faster learning, thus mastering anything sooner. This in turn keeps you motivated about what is next vs thinking about challenges that may not be overcome. Positive thinking!
Like any language you learn at school and then abandon, if life leads you to learn it again in a foreign country, learning comes back easily. Learning by doing.
How long will it take to see an improvement in my playing?
Whether you come to me as a beginner, or as one who has already been playing for a while, progress depends on how regularly YOU practise.
I like to view lessons as 2 friends working as a team to achieve one goal, a goal which you the student sets. While I (as tutor) am responsible to ensure that you understand the stuff I pass you and to help you make realistic goals, our team success highly depends on how regularly you (the student) practise. In other words, for us to achieve your goal, you need to polish up what is covered during a lesson to understand the next lesson more comfortably. 10mins a day for beginners is fine! As the Indian proverb goes – "The way to eat an elephant is one bite at a time!"
Do I have to sit for examinations?
Of course not!!! Music making is all about fun. That said, it is known that exams generally make one push oneself to achieve results within a set time-frame. So once I deem you ready to successfully pass an exam, I would suggest it, and then you decide whether to take it or not. Plus it is more fun to have a qualification not? Some guitar boards are totally accredited as equivalent to GCSE O and A Levels up to Bachelors and Masters, and would therefore come in handy one way or another.
Why learn with a tutor when I can learn online?
Think of yourself as an illustrator with great ideas! You might have quite forward-thinking art in your head but as you have never studied drawing or graphic art, you lack the skill to become a painter or designer. And the hard truth is that all the ideas in the world will not change that!
Same with music, while the internet is full of information nowadays, not all of it is put up by experienced players/tutors, and hence it is as easy to find accurate info as it is to find inaccurate one, if not more of the latter than the former.
Which is why many who start alone online, eventually call a tutor to learn. Simply because the time spent finding the right info does not compare to how faster one learns by just calling a tutor, experienced in showing you something you think is hard as simple. And the sooner you learn, the more motivated you will be to learn more!
How can I decide if to sign up for group lessons or individual lessons?
Here are the key points about each for you to compare
Individual lessons are spec-tailored to one's needs, come with more flexibility (your choice of 30 or 50mins lessons; taken whenever you want, may be taught in English, German, Italian & Maltese, etc.).
Group modules come only in 50 min sessions, offer the fun challenge to regularly compare yourself with others, less workload between lessons, cost less, run in English only, regular attendance is in your interest (i.e. group has to move forward so skipped lessons can not be repeated)
If uncertain what suits you best, please call (no text) 07983868507.
Why choose Cool Gool Music for your tuition?
If you decide to learn with me, you are allowing me to share with you my foremost love in life – MUSIC! Being so passionate about it, you only got to gain a new friend who puts your musical dreams as the core of your lessons' direction. Do not take my word, just read what some students had to say.
Group lessons related FAQs.
I am not a beginner. Do you have a group course for me?
Yes! There are courses for advanced beginners (ideal if you play already but never took lessons), intermediate and advanced players. Anything from pop to rock to metal to jazz or whatever your style, Cool Gool Music can help you.
Do you also teach other instruments besides guitar?
Yes – bass, ukulele, percussions, ear-training (for all instruments), music theory and harmony (for all instruments). Read about all modules here.
How do I confirm my slot for group lessons?
You can pay directly via paypal at the booking page, or if you do not have paypal, once you book, you will receive an email how to pay & the deadline date to pay it. Your slot is confirmed once you effect payment.
How many students will there be in a group session?
Anything from 3 to 8 max. We keep it at a maximum of 8 to ensure that each participant gets personal attention.
There is a course announced on your website, which clashes with prior commitments. However, I really would like to start learning as soon as possible.
Please book and once 3 people register for your same course, I will contact you all to start on a mutually suitable date. So please supply me with as many availabilities as possible to make this easier! And if you recommend friends, you get rewarded £10 for each who enrols.
Where do the courses run?
Currently, all courses may run from either of
– Cool Gool Music, 3 Tillett Square SE16 6HR; Canada Water Studios, Vancouver House, Surrey Quays Rd, SE16 7BW; Docklands Settlements Rotherhithe Community Centre, 400 Salter Rd SE16 5LJ;
– Osmani Centre, 58 Underwood Road, London E1 5AW.
& other centers London-wide – the more students booked in any area, the sooner a course is held there, so spread the word by forward this poster (+ get £10 for each friend who enrols).
Your question unanswered?
Please call (no text) 07983868507 or email guitar@malcolmcallus.com
Ready to start lessons?
Book your 1st lesson today from this link!