Oh no? Theory! 🙂
Well you did click here, so at least you are not afraid of this word, after all it is just that – a word with 6 letters.
But anyway, what is theory actually? Theory is just ideas musicians before us have found to be cool, which they catalogued for us to learn faster instead of spending time discovering these ideas ourselves. Moreover, why is theory very useful irrelevant of what instrument one plays?
Well the answer is simple – it helps us listen to others & our own ideas better & to find them on our instrument (an often forgotten fact is that music is NOT a visual art but a listening art, which explains why theory is NOT sight-reading – one can know all the theory but not know how to read a note).
Convinced? I run 2 courses in music theory/harmony ….
Know It Hear It! – practical hands-on theory & ear-training to help find the melodies in your head/ in your fave songs onto your instrument! This is a group course that does not involve sight-reading.
Music Theory Graded Exams helps you prepare for popular/classic theory exams. This can be taken in group or alone (at mine, at yours or online). This course involves sight-reading.
Eligible for : Anyone studying any instrument!
Prerequisites : A Love for Music
Suggested Daily Practice  : depends on grade
Level : Beginners to Advanced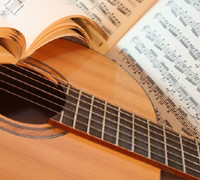 Know it – Hear it! Theory & Harmony Group Lessons
Group lessons in practical theory to help you understand your 1-2-1 lessons faster & thus get more out of them. The course helps one hear how chords and scales are used in songs, thus getting a solid understanding of contemporary music regardless of one's level on your instrument.
These lessons focus on
• how scales & chords are built, relate to each other & are used in song riffs & melodies
• how to figure the rhythm of a song and tap it back
• post-1950 pop & rock music
• changing keys
Cost £10 per lesson payable 4 weeks upfront (total £40).
All musicians & singers (even non-students) are welcome, not just my own guitar/bass/ukelele students.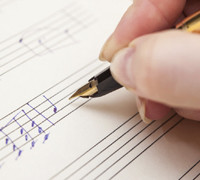 Music Theory Graded Exams
Get to the next level in 12 lessons! Choose between ABRSM/LCM classical music theory up to Grade 5; or LCM Popular Music Theory up to Grade 8.
Cost £10 per lesson payable every 4 weeks for the duration of the 12-week course (£40+£40+£40 = £120) discounted to £8 per lesson if paying all 12 lessons in advance (£96)
All musicians & singers (even non-students) are welcome, not just my own guitar/bass/ukelele students.

Interested in lessons? Book

here.


Or

buy lessons as gifts for your friends/partners/kids.