Welcome! Probably, you have landed on this page as you know someone to whom you would like to give a gift in the form of a number of guitar, bass, ukelele or music theory/harmony lessons.
All my lessons types are available as gift vouchers.
The most popular gift voucher is an intro pack of 5 individual 50-min lessons for only £90! Perfect gift if your friend/partner already plays the guitar but could do with some lessons to brush up some areas, or if they are total beginners aiming to take a few basic lessons on the wonderful guitar/bass/ukulele.
However, I also have vouchers for group lessons (6 @ £66 or 12 @ £120) or online lessons (£15 or more), or for £x (a number of individual lessons that you prefer).
Whatever the amount of the gift voucher, it will look as the sample hereunder (including your friend's name).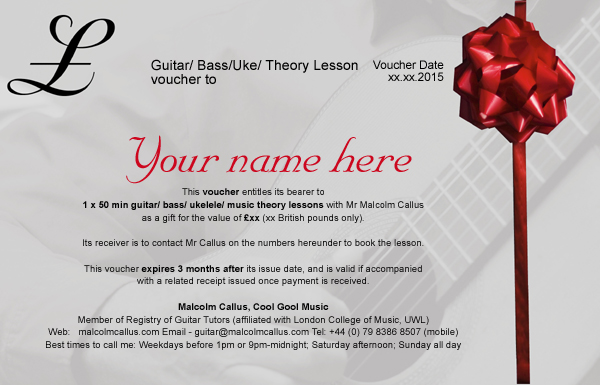 The way it works is 2 simple steps
Email me for whom the gift voucher is to be issued so I email you a pdf to print with their name & surname on it.
Buy a voucher now from the paypal drop-down menu hereunder (if choosing a different amount than listed, I will send you my account details once you email).
Save