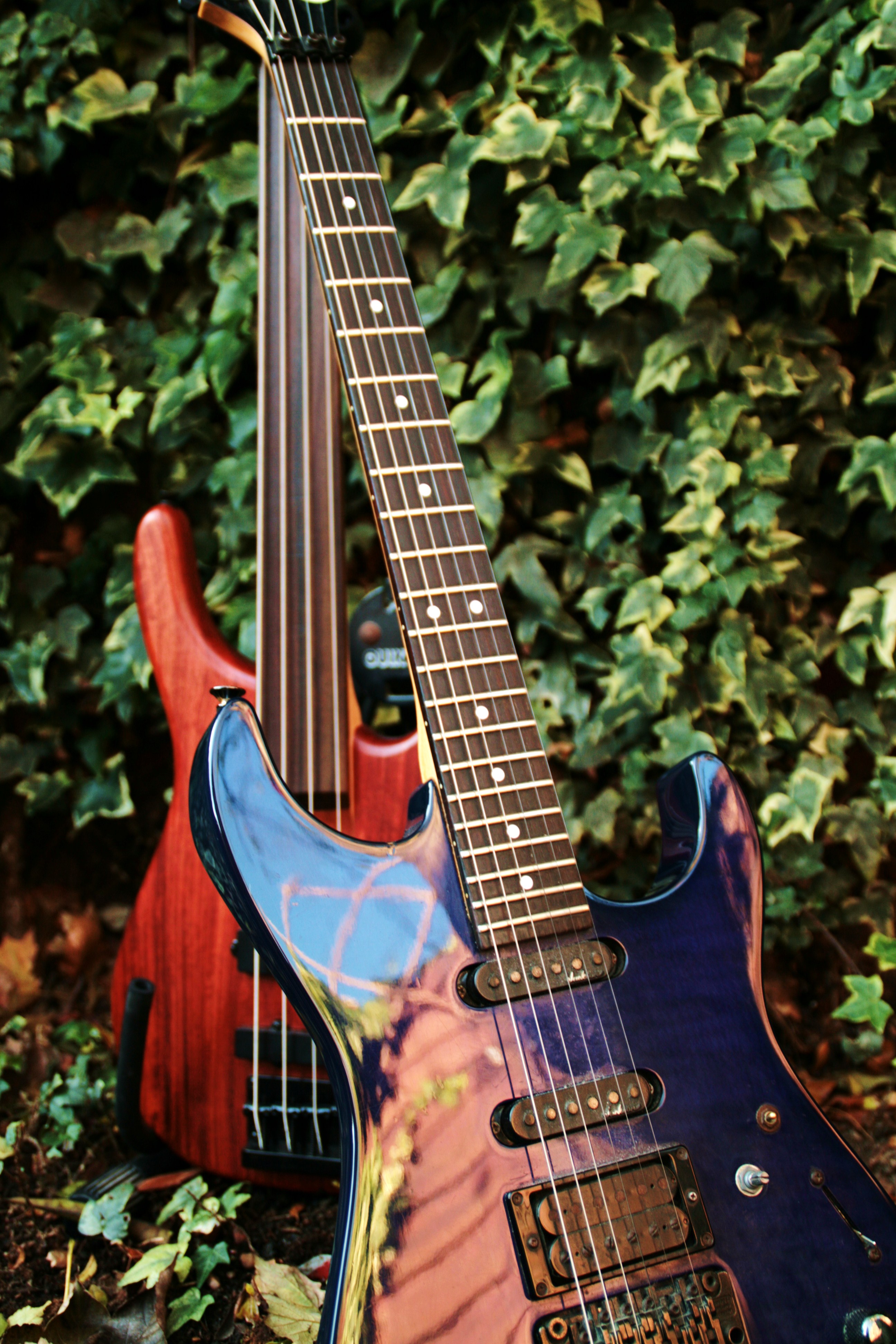 I teach guitar (most styles of acoustic, electric and classical guitar), bass guitar & ukelele to all ages from total beginner to advanced level. You will need your own instrument to be able to practice at home.
Individual lessons are in person from my London studio in SE16 6HR (Canada Water), at yours (within zone 3 of TfL network) or internationally online.
So which type of guitar to learn?
5 basics rules –
a) the thinner the guitar, the easier to play; the fatter, the louder the sound. If a beginner, do not buy a dreadnought acoustic.
b) an entry level beginners guitar costs ~ £50 whereas an entry level ukulele costs ~£25;
c) an electric guitar is the easiest to play, but you would need a +/- £30 amp to go with it;
d) for acoustic guitars/ukes, colour varnish ruins the sound;
e) nylon string acoustic guitars have too wide a neck for beginners. Buy only if a teen/adult wanting to specifically learn classical/latin/flamenco. For all other genres, get a steel string acoustic/electric guitar.
Where are lessons held?
look right on PC/ scroll down on mobile for a list of 4 studios in SE16 & E1 where lessons are held.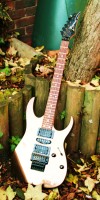 Electric steel string guitar
Contemporary music as we know it was shaped by the electric guitar! Widely used across most genres of music, from pop to metal/rock and jazz.
More about electric guitar lessons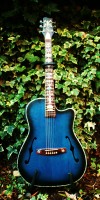 Folk steel string acoustic guitar
Also known as 'folk' or 'western' guitar, the steel strings make for a ringing tone ideal to sing along your fave songs or to accompany a singer. The guitar that guarantees you are never single or out of BBQ mates!
More about acoustic guitar lessons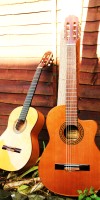 Classic nylon string acoustic guitar
Mainly used for classical, Latin and Spanish styles, the classical guitar has a more rounded tone than the steel string acoustic. It is further divided as concert classic or flamenco, according to the type of wood used, which affects the type of tone produced.
More about classical guitar lessons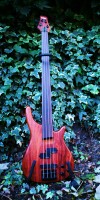 Bass guitar
The bass guitar is the low end of any band in any style of music, and is tuned like the lower 4 strings of the guitar. For the strings to sound lower, it is bigger than a normal guitar. Playing it by the fingers or plectrum produces a different tone.
More about bass guitar lessons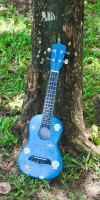 Ukelele
The ukelele is smaller than a guitar, and is hence more popular among kids due to the comfort of playing it. It comes in 4 different sizes – soprano, concert, tenor, and baritone – which determine its tone and volume.
More about ukelele lessons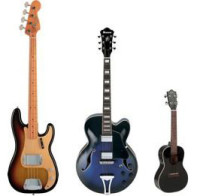 Compare Bass, Guitar & Ukelele
Look at this picture how each instrument compares among themselves in size.
From left to right – bass, guitar, ukelele.
Comparisons by full size version (not 3/4 or 1/2 size) of respective instruments.
So what can you learn from individual lessons?
Intro Course (compulsory in part/full unless student already knows)
Knowledge of fretboard
Anatomy of different guitars and reproduction of sound
Finger independence techniques
Alternate Picking methods
Review of modern contemporary styles and specifically related techniques
Rhythm Guitar
The funs and functions of the rhythm guitarist
Varied styles' glossary of rhythms
String skipping exercises
Dynamics
Rock Guitar
Licks
Whammy Bar Techniques
Legato playing
Advanced Right-Hand Rhythms
Poly techniques using both hands
Class improvisation to minus one CDs
Overview of different rock and metal styles over the years (audio library available)
Modal Soloing
Use of Technology
Jazz Guitar
Jazz Minor & Harmonic Minor Harmonization
Advanced voicings including Slash Chords
Moving bass vs Moving melody
Comping
Analysis of jazz composition (sight-reading skills necessary and will be taught)
Introduction and application of modal minor, advanced & bebop scales
Class improvisation to minus one CDs
Bass Guitar
Keeping the Groove in different styles of music
Understanding & complimenting the Drummer
Being creative within the groove
Improvisation to minus one CDs
Accompaniment to minus one CDs
Ukulele
Chords & Strumming
Fingering technique
Picking &/or Fingerstyle
Single-string melodies
Songs
Reading TAB (& music if requested by students)
Popular Music Theory and its relation to contemporary music
Building of chords and scales, how they relate to each other and their application on the guitar fingerboard
Harmonizing a given melody
Improvisation Basics
Key signatures and modes
Timing
How to Learn Songs Faster
Rhythmic, harmonic and melodic dictation
Awareness of pitch and time as basis of building the inner ear (i.e. the instant reproduction on guitar of the ideas one sings in his head)
Other Stuff
Staccato
Selection of picking tricks
E-Bowing
Alternative Tunings
7-string Guitar
11-string Glissentar (a fretless hybrid of electric guitar & oud)
Introduction to the use of guitars with 8-strings, 10-strings, 11-strings, 12-strings etc
I also offer a scheme of different incentives for who constantly strives to better oneself through routine practice. This includes but is not limited to free lessons, discounts, etc. Please view the individual lesson fees & discounts.
Interested in lessons? Book

here.

Alternatively, if you'd rather learn in a group, you can view guitar group lessons info.