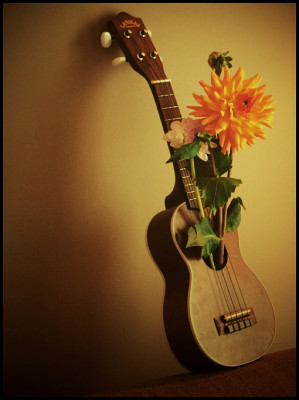 Ukelele lessons
at mine/yours/centres (in London) or via skype (worldwide)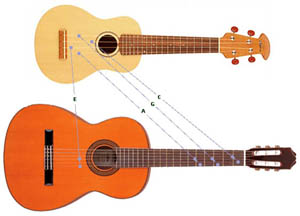 Also known as the uke, the ukulele originates in 19th century Hawaii, gaining popularity a century later in USA, from where it spread internationally.
The uke belongs to the lute family of instruments, and its 4 strings are generally tuned like the 3rd (G), 2nd (C instead of B), and 1st strings of the guitar (E) + a top A string.  So one can look at it as an 8 string guitar where the lower 4 strings (G is 8th, C is 7th, E is 6th, A is 5th string) become the only 4 of the ukelele, but at a much higher pitch. The image to the left shows where the sound of a ukelele's open strings can be found on a guitar.
The uke is smaller than a guitar, and is hence more popular among kids due to the comfort of playing it. It is highly used as a strumming instrument, which makes it a great vocal accompaniment instrument, and is thus also popular with singer/songwriters of all ages. Read more about the instrument's expanding versatility and use in music (this link also includes a tuner!).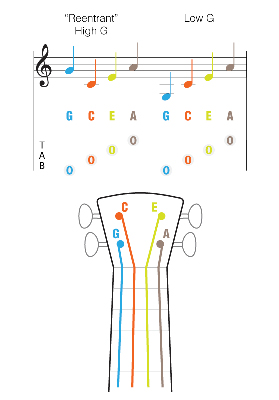 There are 2 types of common tuning – the re-entrant High G (the standard tuning ukes come in, and the one most commonly used, due to the instrument's most common use as an accompaniment instrument) or the Low G tuning (preferred by guitarists who switch to ukulele, as it allows for more scalar shapes & melodic playing).
The baritone uke is an exception as it is tuned as the 1st 4 strings of a guitar, i.e. D G B E.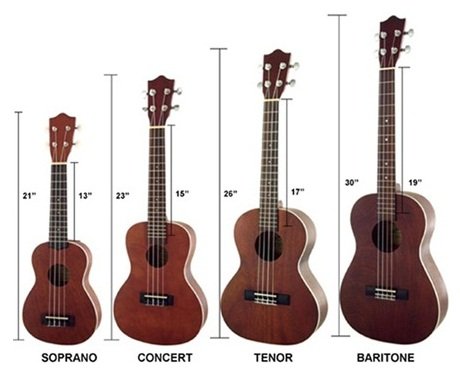 Its tone and volume varies with size, from small/thin sound to less small/rounder sound as follows  : soprano, concert, tenor, and baritone. Have a listen to how the sounds of each vary. When buying a uke, buy one which you can see the wood, as colour varnish ruins the sound.
Variations like pocket uke (aka sopranissimo), U-bass (a bass guitar ukulele) and a guitalele (ukulele in the shape of a small size guitar), have over the years entered the market.
Where are lessons held?
look right on PC/ scroll down on mobile for a list of 4 studios in SE16 & E1 where lessons are held, or I can visit you.
Topics covered in my ukulele lessons
Chords & Strumming
Fingering technique
Picking &/or Fingerstyle
Single-string melodies
Songs
Reading TAB (& music if requested by students)
Much, much more!
Ukulele lessons for kids & beginners
My ukulele lessons will start you off with some basic chords and strumming patterns, before moving on to melodies as you progress.
Soprano & concert ukuleles are the ones suggested for kids.
Ukulele lessons for singers
We will here also use our fingers instead of a pick, which makes our playing sound more harp/lute-like, and flow like a waterfall. Attention will always be given to the pulse of the music, which is of paramount importance to help a singer simultaneously sing and play.
Interested in lessons? Book

here.


Or

buy lessons as gifts for your friends/partners/kids.